******************************************************************
Cover Article,
Mandolin Magazine
, volume 3, Number 2, Fall 2001
******************************************************************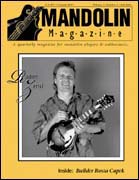 Radim Zenkl
Stretching the Boundaries
By Ginny Hollon
Playing what's in his heart, free from boundaries and preconceived restrictions, Radim Zenkl stretches the limits of mandolin sound and technique. And, in so doing, he has creatively pioneered a unique, fresh, even revolutionary, mandolin music and style which has taken the instrument to a new level.
The versatile artist uses techniques ranging from flatpicking, fingerpicking, alternate tunings, to slide work and solos with two and three moving parts. He plays everything from his native Czech music to bluegrass, classical, jazz, pop, middle eastern, standard American fiddle tunes -- all with intensity and feeling. He writes tunes in unusual meters, and experiments with mandolin modifications.
Radim, born in Opava, Czechoslovakia, in 1966 grew up pretty much isolated musically from Western pop, rock and country music that we take for granted. Both of Radim's parents taught classical music - his father, Ludek, at the university and mother, Mila, at high school and later at the university. They also play the piano. "When I was seven I went to music school for piano, learning the basic music theory and reading. I also was a member of a choir for several years. "But, the big influence was from my mom when I was about 11. She bought a guitar and taught herself to play so that she could accompany herself while singing folk songs. She taught me a few chords and I did the same thing. Then, between the ages of 12 and 15 I studied classical guitar".
"Later, I heard some Czech country and bluegrass bands and I became really interested in this genre more than classical music. I loved that sound and drive". Radim said that because he played guitar and several of his friends also played guitar, he was looking for another instrument that he could play. Mandolin seemed the perfect fit because it was different, yet related, and small enough for backpacking. His first mandolin was a Czechoslovakian instrument for which his father paid 225 crowns (about seven dollars and fifty cents). Before the music took over, Radim was really into sciences and completed four years of college in biology and math. He was 17 when he joined his first bluegrass band, Rozkol - meaning "split". "This band originated by splitting another band into two, one of which needed a mandolin player. They supplied me with copies of American bluegrass LPs - Bill Monroe, Flatt & Scruggs, Stanley Brothers, Jim and Jesse, Osborne Brothers, Seldom Scene and others. "They also gave me Xerox copies of Andy Statman's and Jack Tottle's bluegrass mandolin books. In those days in Czechoslovakia we were not allowed to own western currency or to buy western products, so everything had to be smuggled in. Generally one LP, instructional book or a magazine which made it successfully across the border was enough for the whole country. There was a whole network of musicians copying and distributing reel-to-reel copies of old and current American bluegrass LPs and Xerox copies of the printed materials. Sometimes the copies were about a tenth generation and the recordings were sped up by the time they reached us, however we did not mind and were thriving on every bit of it".
Radim played with Rozkol for about a year and a half. When he broke off from Rozkol, Radim formed his own band, Tyrkys - meaning turquoise. "We were interested in more modern styles and sounds. We played some tunes by the New Grass Revival and Skyline with Czech lyrics and later went on to writing our own music. We did some recordings for radio but the censorship of lyrics was very strong, so many times we ended up by playing just instrumentals. Even though the music was more or less illegal, we had some opportunities to play underground or by calling it 'a music of the poor oppressed American farmers' which was somewhat accepted by the ruling communist party". In 1987, Radim won the Czechoslovakian National Mandolin Championship and in 1998 his band Tyrkys won Porta, the national band contest. About the same time, Radim put together a mandolin duo Mondo Mando named after the LP and composition by David Grisman, who was their direct inspiration. The duo played new acoustic music. "In 1989, I put together a festival mandolin orchestra, Mando Commando, composed of mandolin players from every participating band at that festival. We performed my arrangement of a Czech folk tune. "When I knew that I'd be going to America, I recorded my first album called Mandolin Parade, featuring about ten mandolin family instruments and many musical styles such as bluegrass, Czech traditional, classical, blues and rock. "From the time I was 12, I knew in the back of my mind that I wanted to leave this communist country. The plan finalized in 1989 after about six months arranging to get all the paper work for a three week exit permission from the government. I came to the United States and asked for political asylum".
Radim flew to New York and took a Greyhound bus to San Francisco. "I chose the San Francisco Bay area because it used to be, and still is, something like a mandolin Mecca. David Grisman, Mike Marshall, John Reischman, Dix Bruce, Bob Alekno, Tim Ware, Dana Rath, Rudy Cipolla, and others lived there then". Today, Radim makes his home in San Bruno, California. "I met David Grisman at a concert of Bill Monroe about two weeks after my arrival in America. We spoke and he invited me over to his house and studio where we played some music and listened to recordings. He then offered me to play with him at a mandolin workshop at the Strawberry Music Festival in August of that year. "David Grisman was very supportive of me and he appreciated my different style of playing the mandolin". Radim said that when he came to the United States, his plan was to put together a band, something like the David Grisman Quintet. "Yet, I realized that there are several bands like that already here and I was looking for something more unique. I decided, instead, to focus on solo mandolin performance. "David offered me to record for his new Acoustic Disc label so, in 1992 I did a CD called "Galactic Mandolin" - original solo mandolin music with each piece in a different tuning". That same year, Radim won the Winfield mandolin championship playing original tunes. The first time he competed at Winfield in 1990 he placed third. "I was playing my own tunes, specially prepared for the contest. I noticed that the guys who won were playing more traditional tunes. So, in 1991 I played the more traditional tunes, but still did not place. In 1992 I went to Winfield with no plans to compete but on the day of the contest I decided to sign in and play whatever I play in my concerts. It made it happen. The story is that you should play music from within yourself. In 1994 Radim recorded another solo CD for Acoustic Disc featuring the Czech and Slovak traditional music entitled "Czech It Out".
Radim said that his solo act has changed. He added lower sounding instruments such as the mandola and Irish bouzouki. He added vocals in Czech and English, and now also features some wind instruments. As a departure from his solo recordings, he recorded a CD of duets called "Strings and Wings", released on Shanachie in 1996. It consists of 20 duets, always a mandolin in combination with another acoustic stringed instrument, featuring musicians such as Bela Fleck - banjo, Tony Rice -guitar, Jerry Douglas - dobro, David Grisman - mandola, Mike Marshall - mandocello, Rob Wasserman - bass and others. Some of the instruments also represent musical traditions of different countries such as Indian sitar, Japanese koto, Greek bouzouki, French hurdy-gurdy, Russian balalaika and others. All the music is free improvisation, composed on the spot in the recording studio by playing off each other.
Though he plans to keep his solo act, he also plays in a duo with Czech keyboard master, Leo Chern. As another project, together they formed a four piece band adding bass and drums. The main focus of this folk rock band is Eastern European music. Radim has also subbed several times in the Modern Mandolin Quartet on the first mandolin and mandocello. "For solo performances, I look for many different ways to play the mandolin, using different versions of the chord melody style. I have developed my own technique of the traditional duo-style".
He explains that in the traditional duo-style the player plays tremolo along with a single note or chord accompaniment using one pick. "In my style I use two finger picks, thumb and index, which allows me more variety in sound. "Generally, my index finger plays the tremolo and the thumb plays a variety of accompaniments such as strumming, cross-picking, and even another tremolo, so there can be two tremolos simultaneously on non-adjacent strings".
Radim's latest recording, "Restless Joy", was released in 1999 featuring his original melodic compositions, mostly in solo and duo arrangements with one quintet featuring Leo Chern on piano and Michael Manring on bass. On this project Radim plays mandolin, mandola, Irish bouzouki, slide mandolin and flamenco mandolin.
When off the road, Radim spends quite a bit of time teaching privately. He has about 30 students and also conducts workshops. His main instruments are:
- Capek F-5 mandolin custom made for him in 1999 by Czechoslovakian builder Rosta Capek in Prague.
- Breedlove custom built 4-string mandola by the Breedlove Guitar and Mandolin Company, Tumalo Oregon, suitable for flatpicking as well as fingerpicking and the duo style.
- Berkov nylon string flamenco mandolin by Chris Berkov of Martinez, California. Radim designed this four-string, A-style, round hole instrument constructed of Spanish cedar and cypress like a flamenco guitar with a glued-on, one-piece bridge (the strings begin at the bridge).
- Andersen A-model mandolin by Steve Andersen of Seattle, Washington
- a pre-war Czechoslovakian mandocello
- Irish Bouzouki made by Alfio Leone, Italy
All of the instruments use the "ToneGard" by Tony Pires, Visalia, California and have wide neck, some have a slightly radiused fingerboard. Radim uses D'Addario strings and one millimeter Meta Carbonate pick made by Pick Boy. "I like the sound. It reminds me a bit of the tortoise shell". Radim's musical mission is "To explore, always looking for something new musically and technically, finding the holes and filling them. I like being creative and look forward to lots of improvising with Leo Chern and the new band".
He is interested in mandolin history and styles of every mandolin player and at the same time expanding his knowledge by drawing influence from other stringed instruments such as guitar, balalaika, domra, bouzouki, tenor banjo, charango and others. "I enjoy modifying the mandolin design - nylon string mandolin, fretless octave mandolin, mandolin ukulele and also using other instruments which exist but are not as widely used such as mandolin banjo, dobro mandolin and electric mandolin. "I always like to play from the heart. That seems the most natural, makes me really happy and I feel that I can pass this good feeling to the listener".
For more information about the Mandolin Magazine and subscriptions please visit their web site at:
www.mandolinmagazine.com